What does ADR stand for and what does it mean?
ADR stands for Accord européen relatif au transport international des marchandises Dangereuses par Route, which translates as "European Agreement concerning the Carriage of Dangerous Goods by Road". In this agreement, the ADR member states regulate the packaging, load securing and labelling of dangerous goods in road transport.
Who are the ADR member states?
There are 54 ADR member states (as of February 2023)
Albania, Andorra, Armenia, Austria, Azerbaijan, Belarus, Belgium, Bosnia and Herzegovina, Bulgaria, Croatia, Denmark, Estonia, Finland, France, Georgia, Germany, Greece, Iceland, Ireland, Italy, Kazakhstan, Latvia, Liechtenstein, Lithuania, Luxembourg, Malta, Morocco, Northern Macedonia, Montenegro, Netherlands, Nigeria, Norway, Austria, Poland, Portugal, Republic of Moldova, Romania, Russian Federation, San Marino, Serbia, Slovak Republic, Slovenia, Spain, Sweden, Switzerland, Tajikistan, Turkey, Tunisia, Czech Republic, Uganda, Ukraine, Hungary, United Kingdom and Uzbekistan.
What does the ADR regulate?
The ADR regulates, among other things, the classification of the transport goods as dangerous goods and the associated safety measures as well as the labelling (marking) and documentation such as transport documents and written instructions (tremcards) of a dangerous goods transport.
In addition, the construction of containers, tanks, vehicles for the transport of dangerous goods and exemptions from compliance with the rules of the ADR are regulated.
Among other things, the ADR requires that in many cases the driver must have a dangerous goods driver's licence and that all those involved in the handling and transport must have expert knowledge of the dangerous goods regulations. In addition, companies that transport dangerous goods must have a dangerous goods safety adviser.
How are dangerous goods labelled?
The ADR requires dangerous goods to be marked on the transport packaging and vehicle with the danger labels. The vehicles must also be marked with the danger label (orange warning sign), the danger number (number identifying the danger, formerly Kemler number) and the UN number.
Personal protective equipment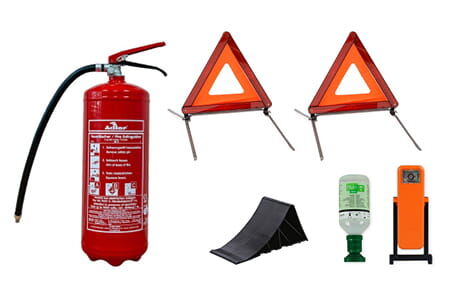 The following equipment must be carried in every transport unit when transporting dangerous goods:
Fire-fighting equipment
one wheel chock per vehicle
two self-standing warning signs
eye rinsing liquid (not required for Class 1 and 2 danger labels)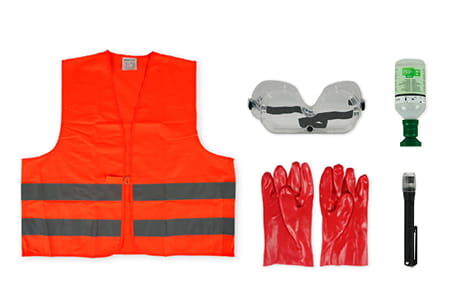 For each member of the vehicle crew there must be:
a high-visibility vest a portable lighting device
a pair of protective gloves
a pair of safety goggles

Additional equipment for different classes: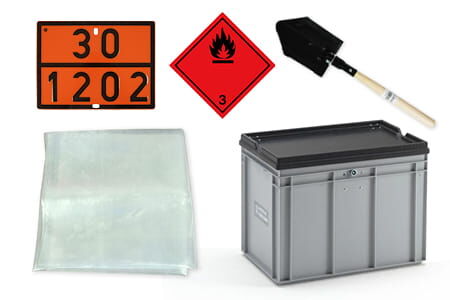 an emergency escape mask for each member of the vehicle crew when carrying substances marked with danger label number 2.3 or 6.1
a shovel (only required for danger label numbers 3, 4.1, 4.3, 8 and 9)
a channel cover (only prescribed for danger label numbers 3, 4.1, 4.3, 8 and 9)
a plastic collecting container (only prescribed for danger label numbers 3, 4.1, 4.3, 8 and 9)
fire extinguishing equipment depending on the weight of the vehicle
Warning plates (front and rear) and possibly danger labels on the right and left as well as on the rear of the vehicle if the exemption limits are exceeded.