ORALITE®5097 Astifol® Anti-Sticker Film from German manufacturer Orafol® is a protective overlay film for traffic and information signs. The protective film can be applied to smooth surfaces and therefore can be used for a wide range of applications.
Road signs – whether tourist information signs or regulatory signs – convey important information in traffic and public areas. By damaging road signs with stickers and graffiti important information may get lost which is annoying if not dangerous.
Quick-Navigation:
APPLICATION |
Properties of Astifol® Anti-Sticker Film:
Structured surface: Stickers do not adhere to the film or can be easily removed without residues.
Long service life: With a service life of 10 years, Astifol® is made for long-term application
Highly transparent: CE conformity and compliance to EN 12899-1 of the sign will not be affected.
Tested and approved: ORALITE® 5097 Astifol® Anti-Sticker Film has been tested and approved by Güteschutzgemeinschaft für Verkehrszeichen und Verkehrseinrichtungen e.V. Also, ORALITE® 5097 has been approved by BASt (Federal Highway Research Institute) for fixed traffic signs.
Low maintenance: Cleaning of signs protected with Astifol® is fast and easy and does not damage the sign's surface.
Cost-efficient: The higher acquisition costs are compensated right from the first cleaning of a sign and more than pay off in the long run.
Dirt-repellent: the repellent surface additionally provides a protection from pollution through smog or precipitation, even graffiti can be easily removed.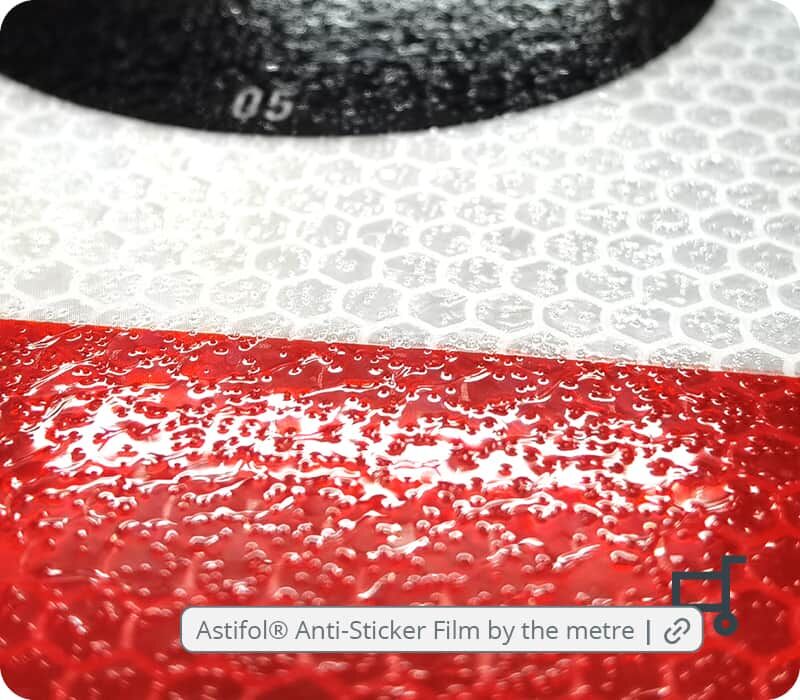 For intact Traffic Signs
ORALITE® 5097 Astifol® Anti-Sticker Film combined with suitable
reflective sign sheeting from Orafol® | can be used to produce new CE conform traffic signs that fulfil all requirements of EN 12899-1. Astifol® is approved for the application on
Orafol ORALITE 5710 Engineer Grade | (RA1/A) and
Orafol ORALITE 5910 High Intensity Prismatic Grade | (RA2/C) since all standards and requirements regarding retroreflectivity are met). Astifol® can only be applied to newly-produced traffic signs (applies for traffic signs under StVO).
For more Sustainability
Long-during materials make an important contribution to reducing the demand for resources. Astifol® can significantly increase the service life of traffic and information signs which saves not only resources but also reduces maintenance.
Astifol® cannot only be used on new signs but also be applied to signs and objects that are already in use e.g., on company premises or street furniture such as information signs and boards, street displays, bus shelters, tourist information boards, etc. (this does not apply for traffic signs under StVO which cannot be altered). The film can be applied to all kinds of smooth surfaces like metal or plastic.
For more attractive Cities
With the help of Astifol® it is possible to create cleaner and more presentable cityscapes and preserve objects in places that are often frequented by visitors inside or outside urban areas where information boards with maps, hiking routes or information on the area are well-received features.
The fields of application apart from traffic and information signs are nearly endless and could be extended to outdoor installations like art exhibitions or culture and school projects.
Intact traffic signs, readable information boards and undamaged art installations – all these factors contribute to the fact that inhabitants live safer and visitors will consider to come back again.