The German Standard DIN 30710 applies to vehicles that use special rights in road traffic according to § 35 (6) StVO.

This applies to construction vehicles, cleaning vehicles, towing vehicles and refuse collection vehicles, among others.

These special rights mean that the vehicles concerned, which are marked by red and white hatched warning markings, may drive and stop on all roads, parts of roads and on each side of the road. To the extent required by their use, they are also permitted to drive in any direction and at any time of day.
Application of vehicle marking in accordance with DIN 30710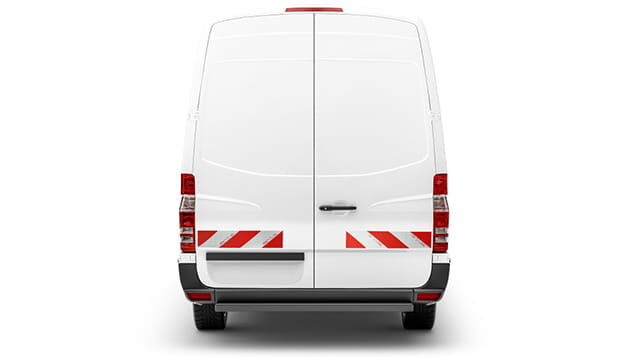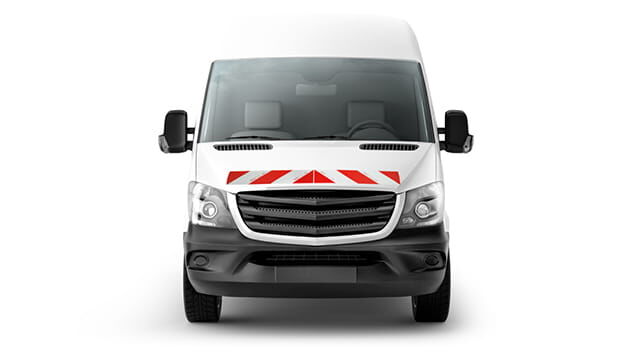 The application of warning markings is comprehensively regulated to ensure safety in road traffic:
The warning marking consists of 8 symmetrically attached standard areas on the front and back, which corresponds to the size of 4 individual areas.
A standard surface consists of a square with the dimensions 141 mm x 141 mm and is divided diagonally into a red and a white half.
A single surface consists of a rectangle with at least 2 standard surfaces, with the dimensions 141 mm x 282 mm.
A standard surface may not be applied individually, but must be applied as a single surface.
The surfaces must be attached in such a way that they face left from the left and right from the right.
The foil to be used corresponds to the reflectivity class RA2.
For further information on the DIN-compliant application of safety markings by means of warning markings, please refer to the article
Vehicle Safety Marking According to DIN 30710 .