The 3M™ Diamond Grade Reflective Panel Series 340 (LDS Panel: Linear Delineation System) stands for highly reflective panels that are mounted on crash barriers and construction site barriers. The reflective profiles are used to improve the visibility of danger zones, e.g. temporary changes to the road, narrowing of lanes and temporary and permanent roadworks. Especially at dusk, at night or in poor weather conditions (restricted visibility due to rain or fog), crash barrier reflectors increase road safety through visibility and greatly reduce the risk of accidents.
Material and design of the Reflex profiles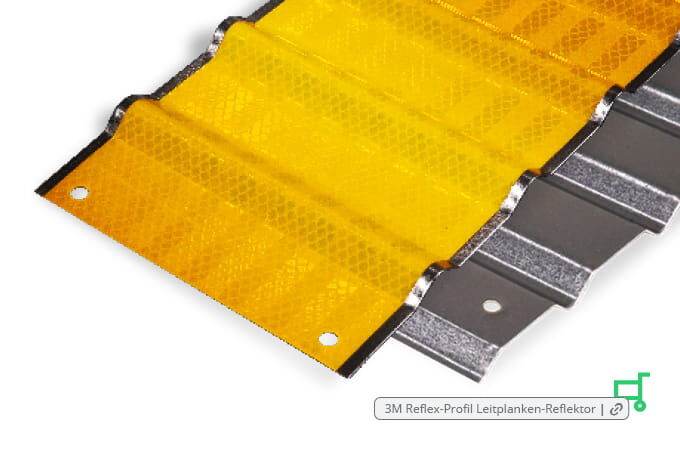 3M™ Diamond Grade Reflective Profile Series 340 | ensures a wide-angle reflection of the incident light thanks to its structure: The microprismatic film is characterised by the highest level of reflectivity and is laminated onto a wave-shaped aluminium carrier plate. The combination of reflective film and waveform captures the light from every area, illuminates the reflectors and thus offers comprehensive visibility from every angle.
Possible uses and installation of the reflective profile panels
The flexibility of the Reflex panels has the advantage that they are ideal for crash barriers on bends or other curved objects. Reflex profiles can also be used for temporary traffic guidance systems such as concrete barriers and roadworks barriers. But the reflectors also effectively increase visibility at entrances and exits (e.g. on posts, walls, doors and gates) and increase protection against accidents. Guardrail reflector Reflex profiles can be mounted permanently or temporarily on concrete, metal or plastic. You can quickly attach the reflective panels to the various surfaces: Either through the pre-drilled holes using anchor bolts or you can glue the panels in place.
Instructions for application using adhesive:
The adhesive tape 3M™ VHB GPH | used together with the 3M™ Scotch-Weld Primer 9348 is ideal, for example, for attaching crash barrier reflectors (LDS panels) to porous substrates such as concrete.


When using the adhesive tape 3M™ VHB™Acrylic Foam Tape 5962, a special adhesive spray from 3M™ must be used beforehand when bonding to concrete: 3M™ Hi-Strength 90 Spray Adhesive.


When bonding to crash barriers, the metal surface must be clean and dry.


The bonding temperature should always be at least 16° C. It should not rain for at least 8 hours after application.
The Reflective Panels in Practice
Case study: 3M™ Linear Delineation Panels as a means of reducing accidents at interchanges in Louisville
The so-called "Spaghetti Junction", the interchange in downtown Louisville, is a traffic junction with a high risk of accidents due to the intersecting on- and off-ramps and sharp curves. Road safety has been hugely affected by many rollovers involving cars and trucks.
The district's traffic department investigated the causes and drew up a list of ways to solve the problem (e.g. redesigning road markings and infrastructure to improve visibility in all weather conditions). It turned out that the bend itself needed to be better defined. The traffic department decided to use 3M™ guardrail reflectors (LDS panels) to ensure better visibility and thus increase safety.
Conclusion: The number of traffic accidents involving rollovers decreased significantly with the use of this cost-effective safety improvement.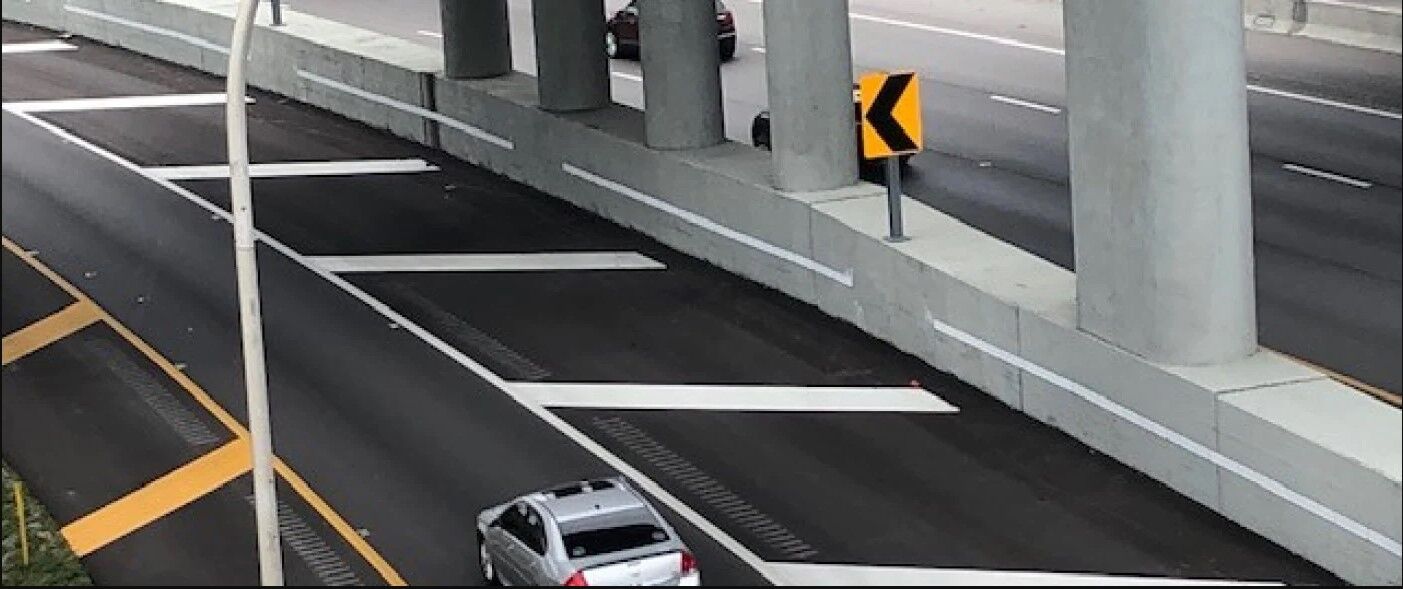 Source: 3M Linear Delineation Panels: Helping Reduce Accidents on Louisville Interchanges, (detailed article by 3M™ in English)
| Open Link in seperate Window