Vehicles making use of special rights such as "vehicles used for the construction, maintenance or cleaning of roads and road installations or for refuse collection" have to be equipped with respective
vehicle safety markings | . Special rights according to sec. 35 (6) StVO require the correct marking of the vehicles with red/white chevrons.
Quick-Navigation:
The safety marking film is retroreflective and shows 100 mm wide white and red stripes that are arranged at a 45° angle. The reflective value of the sheeting has to correspond to reflectivity class RA2 or higher and the surface covered has to correspond to the required standard units.

Standard unit: a standard unit is a 141 x 141 mm square which is diagonally divided into a red and a white half.
Single unit: two standard units make up one single unit measuring 141 x 282 mm.
The application of standard or single units on their own is not sufficient.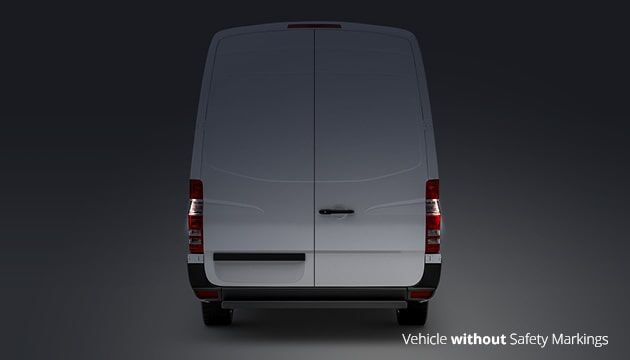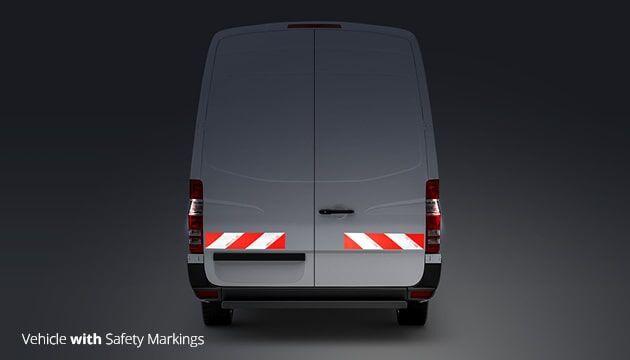 The minimum marking according to DIN 30710 consists of 8 standard units or 4 single units on front and rear of the vehicle.
Please note: the directions of the safety markings (left, right) as described in our shop always refer to the vertical orientation of a product!
| Open PDF in separate Window
In order to make use of special rights, vehicle sides do not have to be marked. However, the marking is recommended, especially when vehicles stand across the direction of travel or drive on motorways. Just like front and rear, the sides should be equipped with 8 standard units, divided into 4 left-hand and 4 right-hand units.
In practice, however, the
vehicle safety markings | are often not applied in accordance with DIN 30710. Vehicles with incorrect or insufficient vehicle markings, in theory, would not be allowed to make use of special rights. To achieve DIN-compliant safety marking, the following mistakes should be avoided.
Typical Mistakes with DIN 30710
Insufficient knowledge about the correct positioning on front and rear
Not sufficient standard units on front and rear
Only one standard unit on front and rear
Cut-off standard units, resulting e.g., in a 282 mm stripe with only one intact standard unit
| Open PDF in separate Window
Correct Positioning of Safety Markings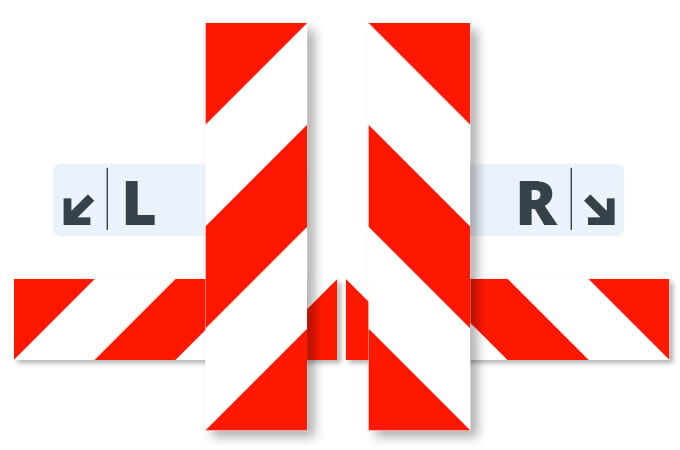 As described above, each vehicle needs to be equipped with 16 standard units, ideally divided into 4 sheets with 4 standard units each.
Furthermore, the marking has to be applied in a symmetrical way.Correctly applied, the chevrons on the sheeting form a "roof" or "A" in the middle, which also means the chevrons point down towards the edge of the vehicle and make aware of its dimensions.
The directions of the safety markings in our shop refer to the vertical application of the film.
Due to the definition of standard units, the safety markings can be adjusted to fit different vehicles types. However, the standard-compliant marking is not always possible. For example, on car models with flat bonnets the safety markings lay almost flat and therefore do not cause any effect.
Vehicle safety markings can be adjusted to the contours and shape of the vehicle as long as minimum requirements are met.
Application of Vehicle Safety Markings
Self-adhesive safety markings are usually applied permanently which is why they may not be the best option when vehicles need to be equipped with safety markings only for a limited period of time. Some self-adhesive sheetings are removable but they sometimes leave unwanted residues on the vehicle's paint. When self-adhesive safety markings are used over a longer period of time and are exposed to sunlight they start to age and are only hard to remove and might leave an adhesive film with the pattern of the sheeting. Sometimes the top layer of the reflective film peels off and only leaves the reflective honeycombs or triangles that are extremely tedious to remove.
To protect the vehicle's paint, the application of removable
base sheeting | is recommended. The safety marking is applied on top of the base layer and both can be removed with heat when needed.
magnetic | and
reusable adhesive | safety markings and not only removable, they also can be used several times and are easy to handle.