Quick-Navigation:
CONDITIONS |
High-visibility work wear is crucial when it comes to workplace safety and avoiding accidents and is part of the personal protective equipment. It is made of fluorescent and
retroreflective material | which provides excellent day- and night-time visibility for people working in dangerous areas or or during the dark hours.
High-vis gear is not only used and required in professional environments. Drivers of private vehicles have to carry a hi-vis vest in their standard equipment and also cyclists are more and more seen with these conspicuous safety vests.
Who needs to wear high-visibility safety wear?
Jobs and areas where high-visibility clothing is typically used:
(rail) road construction
waste collection
street cleaning
winter road clearance
airport runway staff
emergency and rescue services e.g., medical staff and fire fighters
civil protection
police
Requirements for Hi-Vis Clothing
The requirements for high-visibility clothing are defined in EN ISO 20471: "[…] high visibility clothing which is capable of visually signalling the user's presence. The high visibility clothing is intended to provide conspicuity of the wearer in any light condition when viewed by operators of vehicles or other mechanized equipment during daylight conditions and under illumination of headlights in the dark."
The standard defines colours and retroreflection as well as minimum areas and the placement of the materials in protective clothing. Reflective stripes on hi-vis-clothing have a min. width of 50 mm and min. spacing of 50 mm.
3 classes of high-visibility clothing
Minimum requirements of hi-vis material per class regarding surface area:
| | | | |
| --- | --- | --- | --- |
| | Class 1 | Class 2 | Class 3 |
| Retroreflective material | 0.10 sqm | 0.13 sqm | 0.20 sqm |
| Fluorescent material | 0.14 sqm | 0.50 sqm | 0.80 sqm |
Class 1: lowest level of visibility, for areas with low speeds of max. 30 km/h, e.g., hi-vis trousers with two reflective stripes around the legs.
Class 2: intermediate level of visibility, for areas with moderate traffic, sufficient visibility and traffic speeds of less than 60 km/h e.g., overalls with three reflective bands around the legs and one around the torso.
Class 3: highest visibility level, for high-risk areas such as motorways and airports where speeds in the working area exceeds 60 km/h e.g., long-sleeved jackets with reflective bands and fluorescent materials.
Correct use of high-visibility clothing
When using hi-vis- clothing some factors such as combination of items or size have to be taken into account: e.g., by combining a class 2 shirt with class 2 trousers the requirements of class 3 can be met. A class 2 shirt acc. to EN ISO 20471 in size XS only corresponds to class 1 since the areas of hi-vis material do not add up to the minimum requirements.
The correct use of the garment is also very important to benefit from the max. performance of the gear: wear jackets closed, so the reflective tape surrounds the entire body; wear boots underneath trousers, so reflective stripes are not covered; do not shorten or amend hi-vis clothing.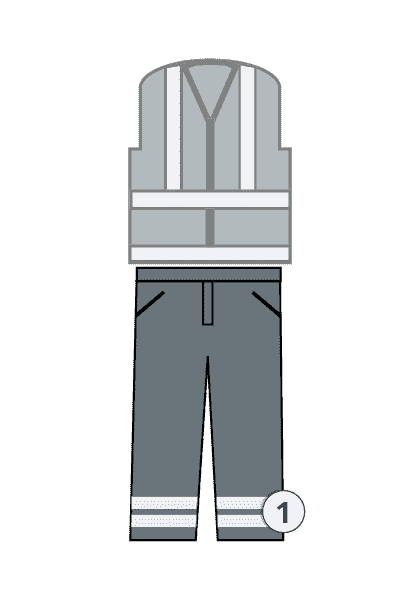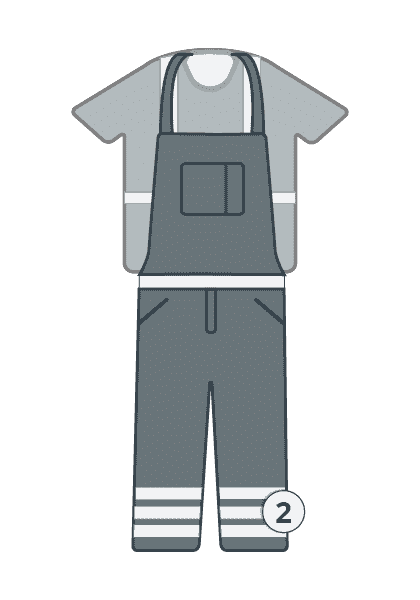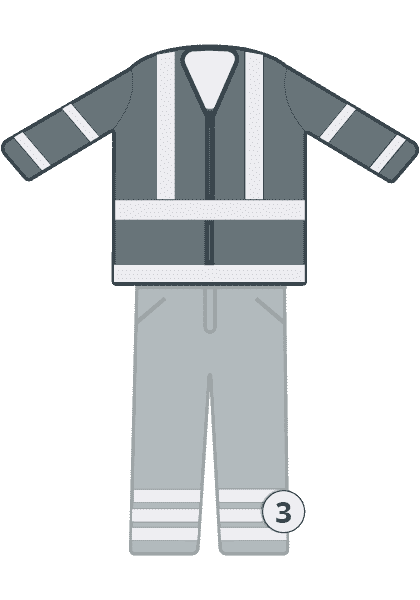 Depending on the area of use or profession, EN ISO 20471 is complemented by further standards e.g., EN ISO 15798 on washing and maintenance and EN 469 on requirements for firefighting garment.
DIN EN 17353 (substitutes EN 1150) defines requirements of visibility clothing for non-professional use.
To measure the reflective performance of reflective material on your high-visibility clothing, you can use a
3M™ Confirm™ Reflectivity Evaluation Set | . The set is available in our shop.