According to ECE Regulation 70 there are two types of rear marking plates for heavy and long vehicles depending on the type of vehicle that is used. Heavy motor vehicles such as trucks and tractors (tractor units) must be equipped with red and yellow chevron marking plates. However, long vehicles with trailers or semi-trailers must be equipped with yellow marking plates with a red border.
Quick-Navigation:
SPEZIFICATIONS |
APPLICATION |
Both, truck and trailer marking boards, are available in different versions and designs that can be chosen freely depending on the individual requirements for your application.
RR/RF
The rear markings are available with either yellow retroreflective and red fluorescent film or completely retroreflective. The following table shows the advantages and disadvantages of either version.
Reflective Class
Rear marking plates are found with two different reflectivity classes: RA2 and RA3. However, the lower reflective class is less and less common since the latest version of the respective regulation – ECE 70.01 stipulates the higher reflectivity class for rear markers which results in RA2 markings being produced less.
Size
Depending on the vehicle body, you may find full, half or quarter marker boards more suitable. Full markings measure 1130 x 130 mm and are fitted horizontally as a single plate to the rear. Half markings measure 565 x 130 mm and must be mounted in pairs to the rear, either horizontally or vertically. If you display quarter markings (283 x 130 mm), you need to attach four of them to the back of the vehicle, one horizontal and one vertical on each side. All configurations are valid and solely depend on your requirements for rear marking.
Application
We offer different designs for permanent or temporary application on vehicles. For long-term application self-adhesive films (stickers) are recommended, aluminium plates can be used in a more flexible way and attached and removed as needed, magnetic films are the most flexible form and are recommended for short-term applications.
Arrangement
Every rear marking shall be fitted such that the lower edge is horizontal. Every part of a rear marking shall lie within 5° of a transverse vertical plane at right angles to the longitudinal axis of the vehicle and shall face to the rear. The set of marking plates shall be arranged symmetrically with respect to the median longitudinal plane of the vehicle. The marking must not be placed less than 250 mm (lower edge) nor more than 2,100 mm above the ground (upper edge).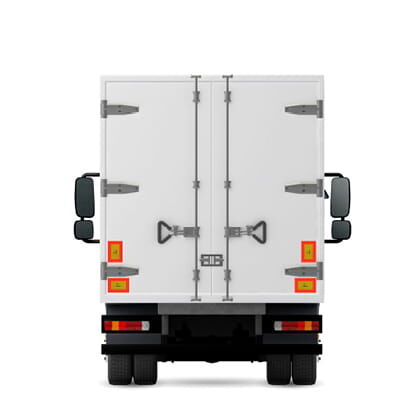 Quarter Markings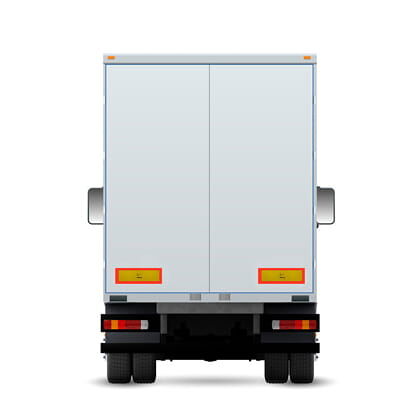 Half Markings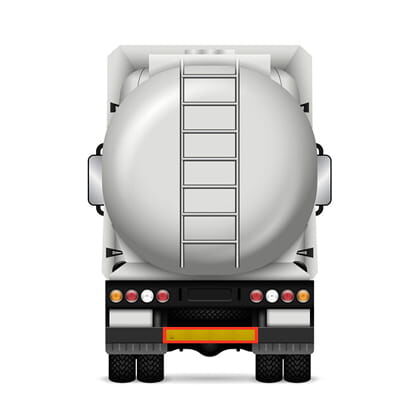 Full Markings