Reflective banners are designed to attract attention at all times to convey important messages - even in limited visibility or at night.
Quick-Navigation:
What are Reflective Banners?
Reflective banners are characterised by the fact that they can be used for a variety of purposes. They can be printed, glued and otherwise processed. The basis for this is always the robust banner material. It consists of a reflective film from Orafol® (
ORALITE® 5937M | and
ORALITE® 5437M | ) with a textile backing - mostly polyester and cotton - which is not only opaque, but also excellently suited for colourful prints.
Advantages of Reflective Banners

Compared to signs made of aluminium or plastic, reflective banners have several advantages that can facilitate their use in the relevant areas.
They are very flexible and can be used several times. The short-term change of the place of use is very easy to carry out due to the fastening with eyelets and tension straps. Thus, repeated attachment to the objects to be marked is also no problem.
In contrast to bulky aluminium signs, the transport and handling of reflective banners is much more convenient. Fixing and dismantling are made much easier and stowing the reflective banners is no problem either, as they can be rolled up easily to save space.
Our reflective banners are made of a hard-wearing tarpaulin material. This has the advantage that they are also resistant to strong environmental influences and forces. Plastic signs can be damaged by rough handling, while rolls of foil suffer no damage even when thrown into a van.


Types and uses for reflective banners:
The use of reflective banners is versatile. They offer a practical alternative for conventional, rigid signs, for example as: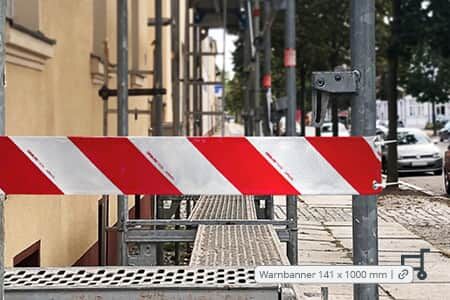 Warning banners not only have a strong signal effect, they are also very flexible in their use. Their characteristic red and white stripes and the reflective properties of the banner material make them immediately noticeable and ensure more safety. In addition, the eyelets allow for quick attachment and removal at any time.
Our warning banners are made of the
robust banner material from Orafol® | , which is made of a reflective film with a textile backing. Due to the UV stabilisation, the colours remain intense for a long time even with frequent exposure to sunlight. Our warning banners are hemmed at the edges and therefore also very hard-wearing. It is recommended to attach them in areas with little wind, as the opaque vinyl is not wind-permeable.
Possible uses:
Warning banners can be used as markings of sources of danger, such as on trees, lampposts and electricity poles.
They are very suitable as flexible traffic guidance devices and are used as warning markings on vehicles with excess width and/or excess length such as harvesters and other agricultural vehicles.
They are also useful in industry, production and construction, for example on scaffolding or machinery. Potential danger spots are thus visible more quickly.
Warning banners are also indispensable in forestry. They can be flexibly and quickly attached to trees and removed again, for example, during spontaneous operations to repair forest damage or during dangerous forestry work. Another advantage is that they can be stowed in the car in a very space-saving way and are thus ready for use at any time.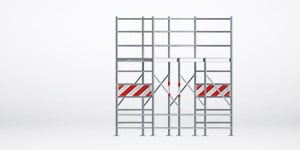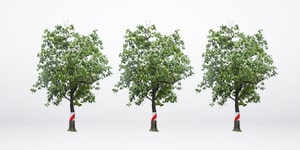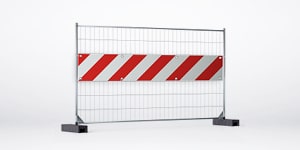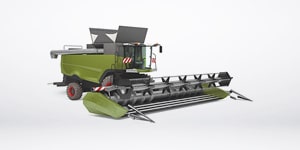 For more information see our glossary article about
warning banners | .
The robust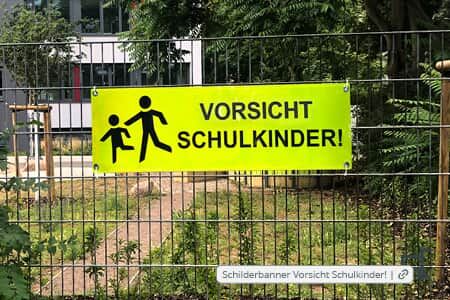 Das
banner material from Orafol® | is also the basis for our sign banners. The base material is printed, laminated or laminated depending on requirements and intended use. Due to the UV-stabilised film surface, the colours remain bright and intense for a long time. Most of our banner signs are already eyed for easy attachment and hemmed for better stability.
Possible uses:
Reflective sign banners are excellent for temporary sign replacement - e.g. at playgrounds or parking areas - because they can be easily and quickly attached and removed at any time. They usually temporarily replace invalid traffic signs or other signs. For example, in housing estates where there are streets with many playing children, a sign banner with "Voluntary 30 km/h" printed on it is a good solution.