The following instructions refer to the application of vehicle warning markings and other reflective films. Additional information on the application of contour markings can be found below.
Auxiliary materials
Cleaning agent: Isopropyl alcohol/isopropanol, methylated spirit, surface cleaner |
clean cloth
multi-purpose knife
squeegee | - preferably a felt squeegee to avoid scratching the film
If necessary, pencil, tape measure and tape for correct positioning.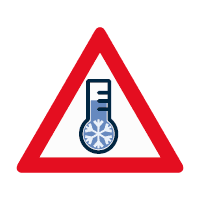 Temperature during bonding
To ensure good adhesion between the warning marker and the cleaned surface, the substrate and the surrounding area must have a temperature between 15°C and 30°C. The temperature must remain constant for at least one hour after application.
Preparation
Examine the substrate to see if it is possible to apply the reflective tape. Do not apply the reflective tape over holes, rivets, rust or flaking substrate, e.g. peeling paint. The film should be applied to a smooth and even surface. Slight curvatures resulting from the shape of the vehicle can be applied.
Cleaning the surface to be covered
All dirt should be removed by cleaning the surface to be covered. It is very important that the surface is free of grease and dust.
Apply a suitable cleaning agent (see above) to the surface.
wipe the surface with a clean cloth in one direction so as not to spread impurities.
Repeat this process until the surface is clean, i.e. until there are no visible traces of contamination on the cloth. Make sure that the surface is dry and the cleaning agent has evaporated completely before you start applying.
Alignment
Draw guide lines on the surface to be covered with a pencil or apply tape to mark.
Important:
Only apply the film to painted substrates (unless the film is suitable for other substrates).
The substrate must be absolutely clean, dry and free of grease immediately before application.
Do not stretch or bend the film during application.
Do not apply the film over rivets, seams, hinges or overlapping substrates.
Do not overlap the film
---
Instructions specifically for bonding
conspicuity tape |


Retroreflective markings on vehicles may consist of one or more parts, must be applied as closed as possible horizontally or vertically and must be compatible with the construction and operating regulations of the vehicle.
Temperature range during bonding: 10°C to 38°C.
Clean the surface thoroughly with water and a mild detergent only, unless it is a painted surface.
When bonding the contour marking to a tarpaulin, place a hard surface behind the tarpaulin during bonding. Do not apply to bolts, rivets or rings.
---
You can find specific instructions on how to apply the adhesive under the heading
Vehicle warning markings – Application instructions . The principle of adhesion can be applied to most reflective tape types.


Instructions for cleaning can be found under the heading
Cleaning of reflective tape .